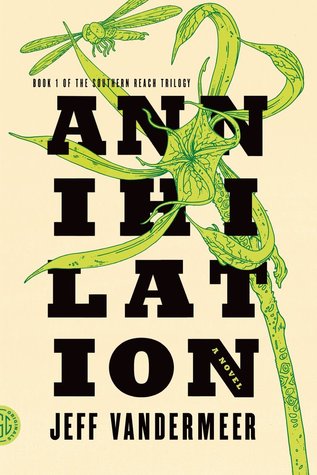 Cover from Goodreads
Blurb (from Goodreads):
Area X has been cut off from the rest of the continent for decades. Nature has reclaimed the last vestiges of human civilization. The first expedition returned with reports of a pristine, Edenic landscape; all the members of the second expedition committed suicide; the third expedition died in a hail of gunfire as its members turned on one another; the members of the eleventh expedition returned as shadows of their former selves, and within months of their return, all had died of aggressive cancer.
This is the twelfth expedition.
Their group is made up of four women: an anthropologist; a surveyor; a psychologist, the de facto leader; and our narrator, a biologist. Their mission is to map the terrain and collect specimens; to record all their observations, scientific and otherwise, of their surroundings and of one another; and, above all, to avoid being contaminated by Area X itself.
They arrive expecting the unexpected, and Area X delivers - they discover a massive topographic anomaly and life forms that surpass understanding - but it's the surprises that came across the border with them, and the secrets the expedition members are keeping from one another, that changes everything.
My thoughts:
This was a strange book for me; I don't know how else to say this. I gave this 4 Goofys but I'm not sure if I would knowingly read this again. So here's what I thought...
"The beauty of it cannot be understood, either, and when you see beauty in desolution it changes something inside you. Desolution tries to colonize you."
<I loved this quote; so beautiful and haunting at the same time.>
First of all, what genre does this book belong in? I'm not normally one that likes to place books in categories but I did feel quite confused with
Annihilation
. My first thought was
sci-fi
but then there are aspects of
horror
in here as well. This wasn't exactly scary and I'm not a huge fan of
horror
(books, tv, movies) so trust me on this. I can however picture it being a lot scarier as a movie, which is apparently in the works.
I thought it was well-written. I really did. I read reviews saying otherwise but there's something about reading this from the biologist's viewpoint that got me hooked. No names are given to the characters, we only get to know them by their occupation. This didn't worry me too much as I felt the other members of the twelfth expedition were only really there to nudge the story in the direction Jeff VanderMeer intended. The book is really all about the biologist; her curiosity, her discovery of herself and also her guilt (without giving too much away). I felt this was intriguing and was enough to keep me interested in at least reading till the end.
The end... was an aspect of the book I didn't quite like. It felt abrupt. Considering this is the first book of a three part series, perhaps more will be revealed in later books.
Recommendation:
I debated with myself for a long while as to what to rate this book. In the end, I decided to give this 4 Goofys, largely because I felt it was a better than average book. I don't however feel motivated enough to pick up the next few books in the series. Don't get me wrong, I enjoyed reading this, it isn't however the type of book I'd normally like to read.
*I read this book as part of the Sword and Laser February book of the month. This review has also been profiled on Goodreads.