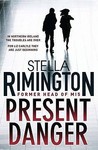 Present Danger
by
Stella Rimington
My rating:
3 of 5 stars
Blurb (from Goodreads):
MI5 intelligence officer Liz Carlyle has just been despatched to Northern Ireland to monitor the brutal breakaway Republican groups who never accepted the peace process and want to continue their 'war'. The situation becomes perilous when her informant turns tail.
My thoughts:
This was a pleasant thriller/crime novel to read. I would give 4/5 for plot. I think what let me down a bit was the characterisation. Sometimes the characters felt stiff and a little too clichéd for my liking.